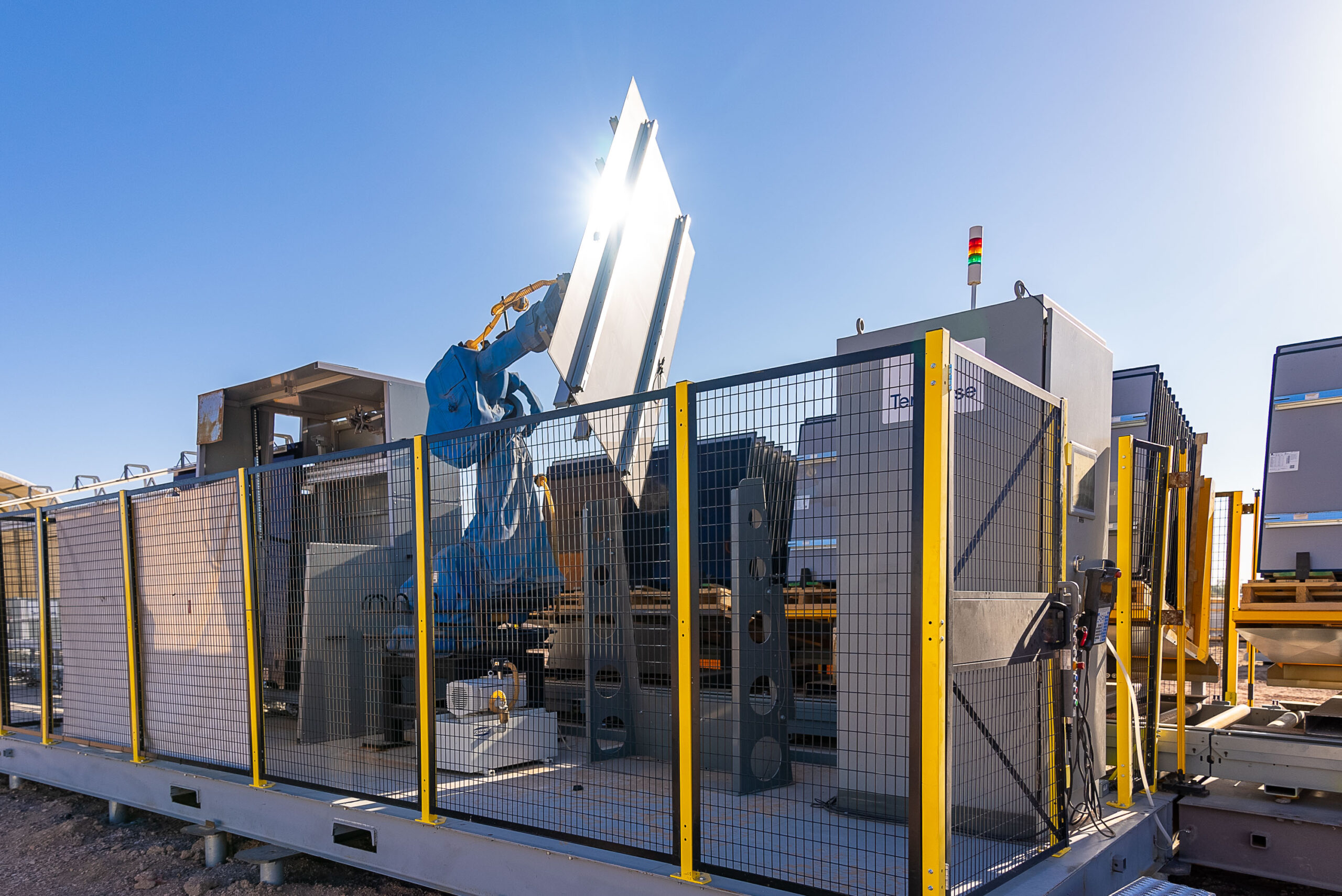 Terabase, Leeward Renewable Energy and RES partner to achieve this industry milestone.
BERKELEY, Calif. – (BUSINESS WIRE) – Terabase Energy, a trailblazer in digital and automation solutions for solar power plants, is thrilled to announce the successful completion of its first commercial Terafab™ project. The company's Terafab construction automation platform installed 17 megawatts (MW) of the 225 MW White Wing Ranch project in Arizona. This milestone project, in collaboration with developer Leeward Renewable Energy (LRE) and EPC contractor RES, demonstrates a significant advancement in solar construction, a key capability to help the industry scale and meet ambitious global decarbonization goals.
"This milestone marks a pivotal moment in our mission to accelerate solar power plant deployment to meet the Terawatt scale demands of the future," said Matt Campbell, CEO of Terabase Energy. "Our partnership with Leeward Renewable Energy and RES has not only validated the efficacy of the Terafab system but also laid the groundwork for future projects. Furthermore, the Terafab system was deployed alongside our Construct digital twin software for managing and monitoring solar power plant construction, demonstrating interoperability of our existing product offerings with physical field applications."
The Terafab system set several new industry benchmarks at full production:
Provided workers with shaded and cooled working conditions to allow for system operation in a very hot desert environment.
Completely eliminated the manual lifting of heavy steel tubes and solar panels, a first in the industry.
Demonstrated labor productivity improvements of 25% compared with manual installation.
Enabled 100% return of PV module packaging for reuse by the manufacturer.
Demonstrated the compelling synergy of automation, Internet of Things (IoT), a digital twin, and data analytics to improve solar construction management on a remote site with difficult environmental conditions.
"The benefits demonstrated by this project underscore the transformative potential of automation in advancing solar construction practices, enabling us to accelerate and de-risk our project pipeline," shared Sam Mangrum, EVP of Project Execution at LRE. "As the renewable energy landscape continues to evolve, LRE is committed to embracing cutting-edge technologies and partnering with innovators like Terabase Energy."
The record-setting metrics on this utility-scale project serve as validation of the potential of digital and automation to advance the solar industry, positioning Terabase Energy, alongside its partners, at the forefront of this exciting trend.
Will Schultek, Vice President of Construction at RES, noted, "White Wing Ranch demonstrates that Terabase's  technology can drive substantial progress in solar construction safety, quality, cost, and schedule. We are excited about the possibilities ahead."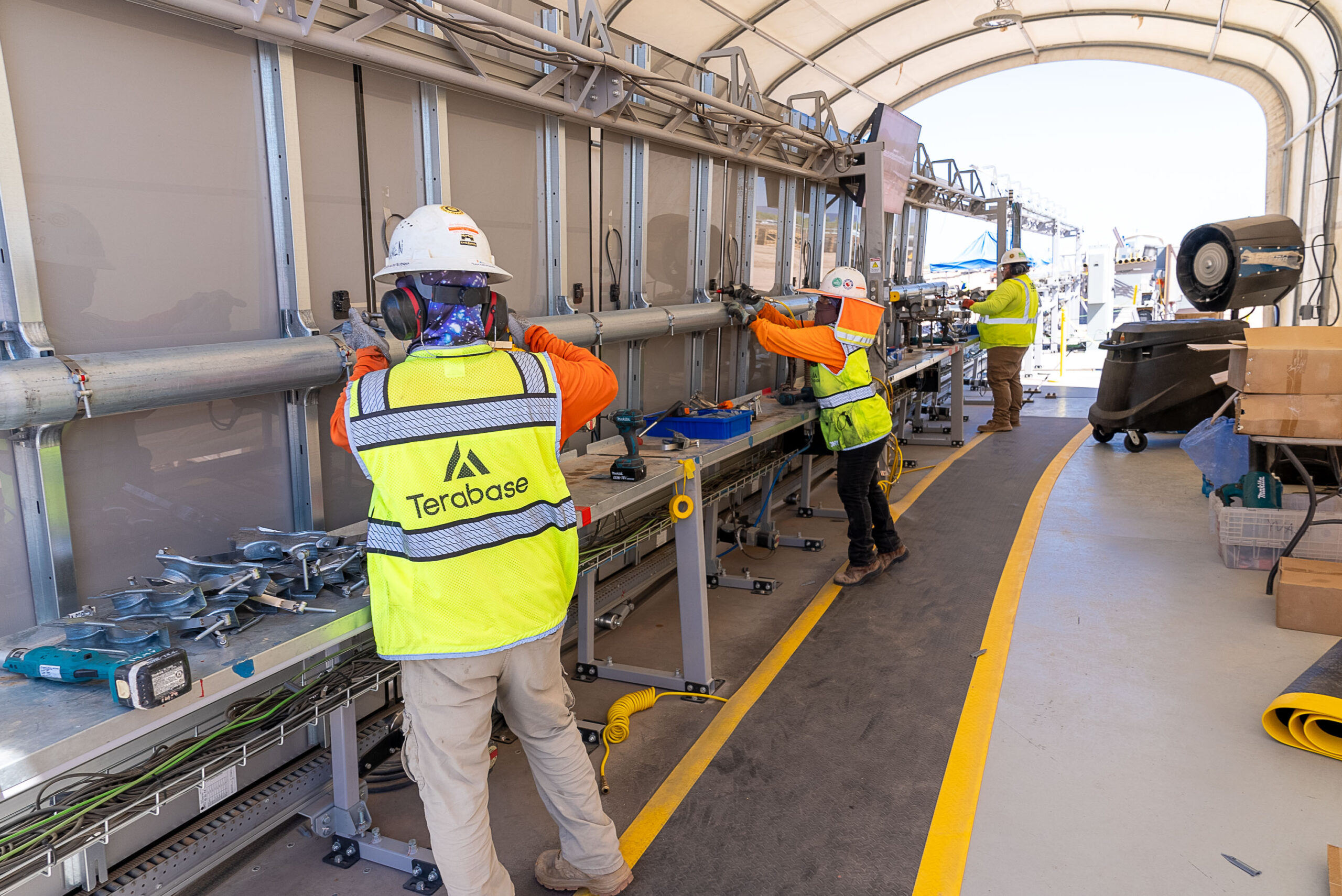 About Terabase Energy
Terabase Energy is on a mission to reduce the cost and accelerate the deployment of utility-scale solar through construction automation and software. The Terabase platform enables rapid deployment of solar plants at more competitive costs, supporting both grid-connected PV plants and the cost-effective production of green hydrogen with PV in the future. Terabase's suite of products includes PlantPredict: a cloud-based solar plant design and energy modeling tool, Construct: digital construction management software, Terafab construction automation, and power plant control and SCADA solutions. To learn more, visit www.terabase.energy.
About Leeward Renewable Energy 
Leeward Renewable Energy (LRE) is a high-growth renewable energy company building a sustainable future for all. The company owns and operates a portfolio of 26 wind, solar, and energy storage facilities across the United States, totaling approximately 2,700 megawatts of generating capacity, and is actively developing and contracting a robust pipeline of new renewable energy projects. LRE takes a tailored, full-lifecycle approach to its projects, which is underpinned by its long-term ownership model and purpose-driven culture that is dedicated to benefiting its community partners while protecting and enhancing the environment. LRE is a portfolio company of OMERS Infrastructure, an investment arm of OMERS, one of the largest defined pension plans in Canada, with C$127.4 billion in net assets (as at June 30,2023). For more information, visit www.leewardenergy.com. 
About RES
RES is the world's largest independent renewable energy company and is active in onshore and offshore wind, solar, energy storage, green hydrogen, transmission and distribution. As an industry innovator for over 40 years, RES has delivered more than 23GW of renewable energy projects across the globe and supports an operational asset portfolio exceeding 12GW worldwide for a large client base. Understanding the unique needs of corporate clients, RES has secured over 1.5GW of corporate power purchase agreements (PPAs) enabling access to energy at the lowest cost. RES employs over 2,500 passionate people and is active in 14 countries. Visit www.res-group.com.
---