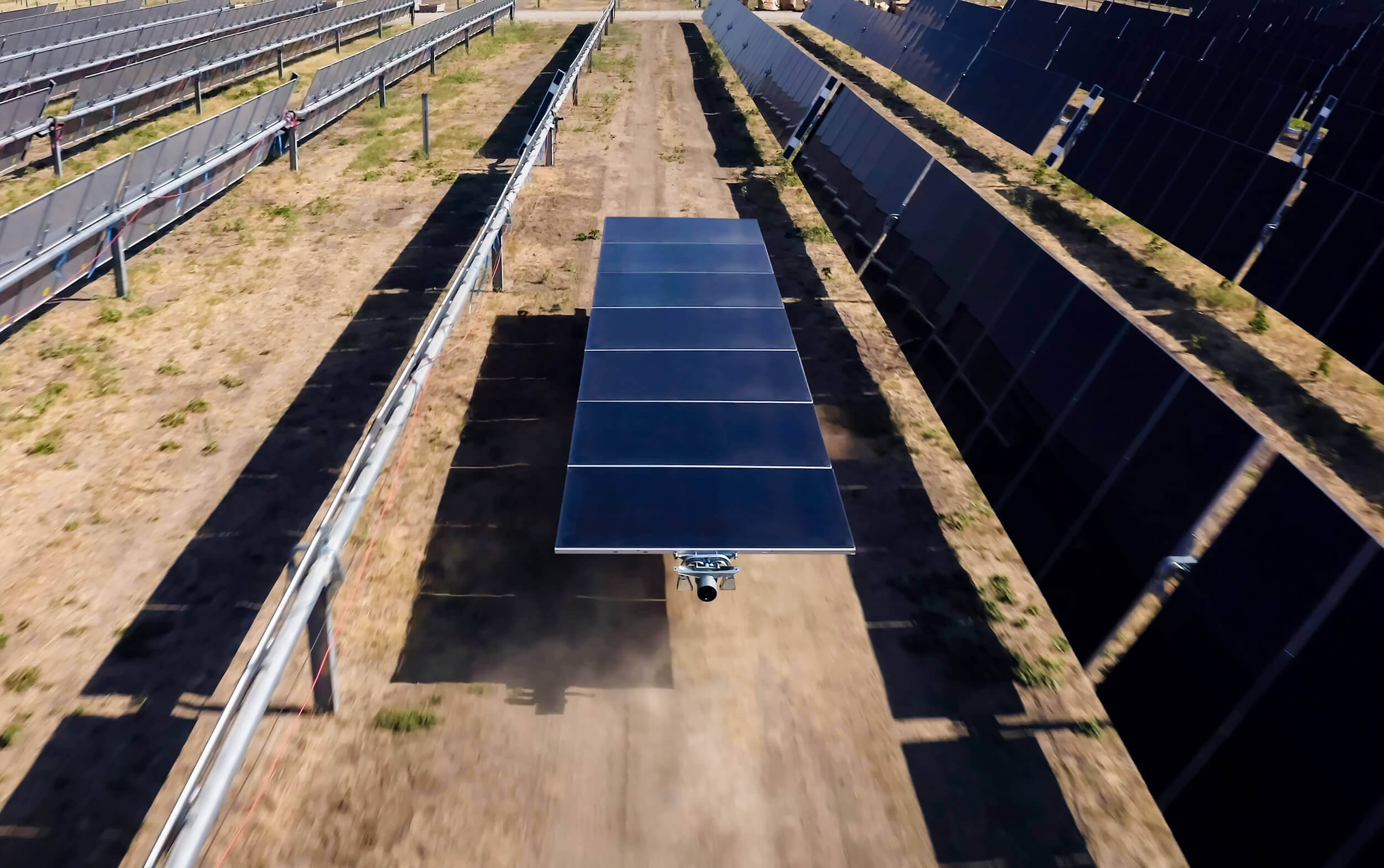 ‍Terafab is designed to enable the exponential growth of utility-scale solar PV demand by introducing construction automation and digitization to transform the way solar power plants are built.
BERKELEY, CALIFORNIA, May 11, 2023 /Business Wire/ — Terabase Energy, the leader in digital and automation solutions for solar power plants, is launching Terafab™, the world's first automated, digital field factory for solar power plant construction. Terafab transforms solar power plant construction with a modern factory approach, increasing installation productivity by a factor of 2x over traditional methods.
Terabase also announces today the grand opening of its Woodland, California, Terafab manufacturing facility — a "factory to make factories." The Woodland facility is currently manufacturing the first gigawatt (GW) of Terafab assembly lines with a capacity to build more than 10 GW of Terafabs per year.
The comprehensive Terafab system combines a digital twin of the project site, advanced supply chain and inventory management systems, an onsite wireless digital command center, a field deployed automated assembly line, and specialized installation rovers into a seamless 24/7 operation.
Terafab's key benefits include:
Faster construction: High-throughput, 24/7 operation, and modularity enable rapid ramp-ups and much higher solar field construction speeds, significantly reducing project schedules.
Improved worker health and safety: Terafab eliminates the physical safety risk of construction workers needing to lift heavy solar panels and steel structures (often in harsh weather conditions) by utilizing automation on a climate-controlled assembly line.
Alleviation of labor shortages: Terafab increases labor productivity by 2x, addressing the solar industry's unprecedented labor shortages.
Reduced construction cost: Terafab's installation efficiency and time savings lower overall project costs, enabling a lower levelized cost of energy (LCOE).
Scalability: The system supports the solar industry's exponential growth, leveraging a modular design that can be replicated and deployed quickly.
Matt Campbell, CEO and co-founder of Terabase Energy, said, "The Terafab system is a game-changer, offering a comprehensive solution that merges cutting-edge construction automation with a sophisticated digital system to transform the way solar power plants are constructed. We successfully field-tested Terafab last year, building 10 megawatts (MW) of a 400 MW site in Texas. Today's launch is the next step forward to rapid commercial scale-up."
Sheldon Kimber, CEO and founder of Intersect Power, stated, "Our collaboration with Terabase on their Terafab technology exemplifies our commitment to deliver industrial-scale, clean infrastructure to combat the climate crisis. The Terafab system is also revolutionary for the health and safety of our partners in the field. This technology will allow for higher quality and consistency of finished products and improved handling of packaging and materials, resulting in a more sustainable solar industry for all stakeholders for years to come."
"Our partnership with Terabase reflects our commitment to supporting innovation in the solar industry," stated Nextracker Founder and CEO, Dan Shugar. "The Terafab system's potential to significantly advance large-scale solar construction aligns with our vision of a renewably powered world. We applaud Terabase's progress achieved with their terrific team."
Nick Strevel, VP Product at First Solar, said, "Not only does our partnership with Terabase bring advanced installation technology to our next-generation Series 7 solar module, but it also enables a closed-loop packaging recycling system consistent with our vision of responsible solar. The Terafab system is another example of how homegrown American innovation can help accelerate the deployment of solar, enabling our country's decarbonization ambitions."
"With emerging technologies and automation at the forefront of Signal Energy's clean energy engineering and self-perform construction pursuits, Terabase's solution compliments our deployment strategy to improve in productivity, efficiency, and overall quality for our solar installations" said Karl Schadlich, Sr. Director of Business Development at Signal Energy. "Above all, the Terabase team is continually looking ahead and pioneering the automation and solutions landscapes for the future of the renewable industry, and we're excited to have Terabase Energy as a partner to that evolution."
The Terafab system will be commercially deployed on several projects starting in Q3 2023.
---