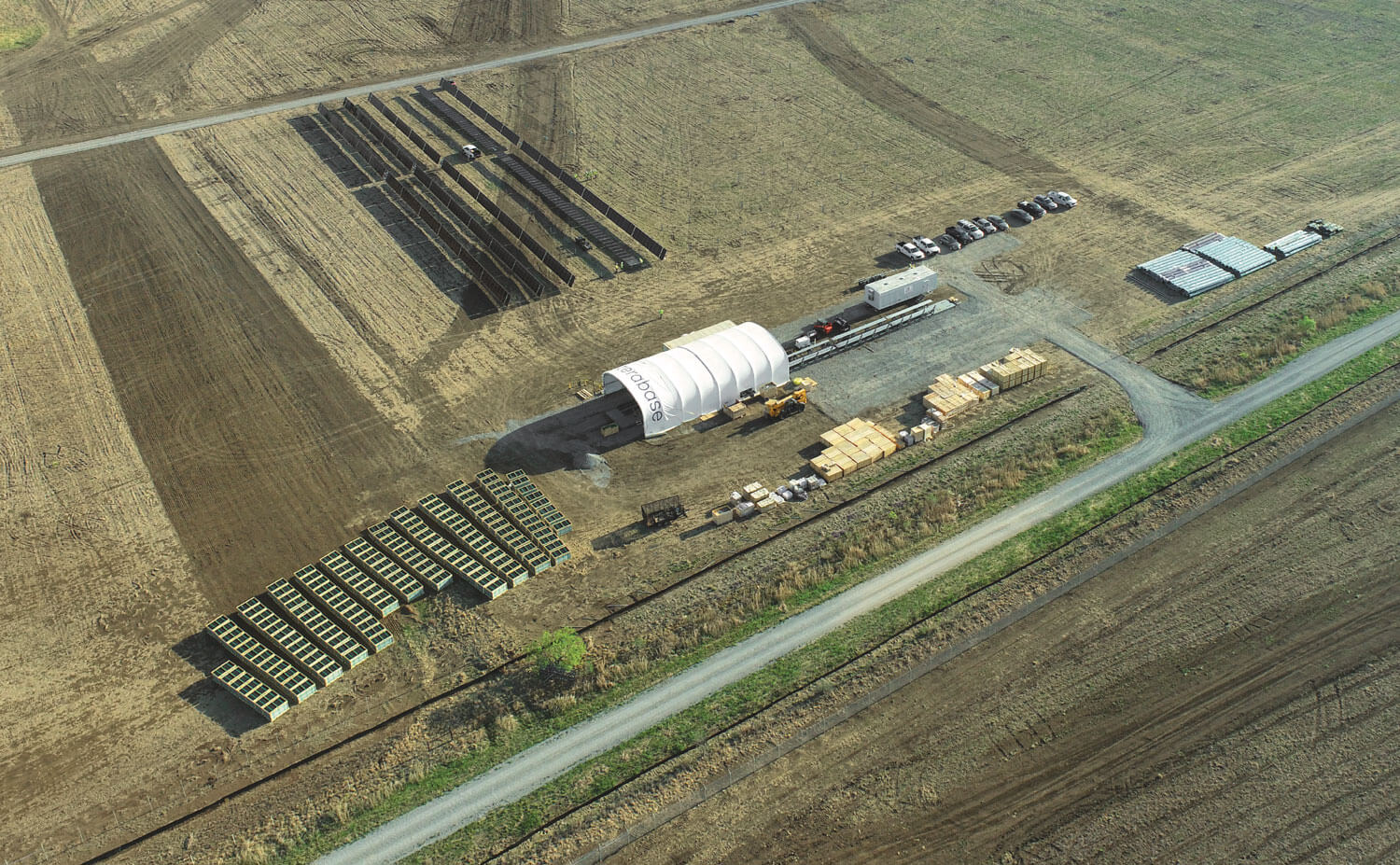 Fifth Wall leads round with participation from Prelude Ventures, SJF Ventures, and EDP Ventures to support the commercial scale-up of the groundbreaking Terafab construction system 
BERKELEY, CALIFORNIA, July 19, 2023 /Business Wire/ — Terabase Energy, the leader in digital and automation solutions for solar power plants, today announced $25 Million in new financing, led by Fifth Wall, the largest asset manager focused on improving, future-proofing, and decarbonizing the built world, with participation from EDP Ventures and existing investors. This financing round will be used to support the commercial scale-up of the company's recently launched Terafab™ construction automation system, the world's first automated, digital field factory for solar power plant construction.
"We are thrilled to drive this round of financing and support Terabase's vision of revolutionizing the solar industry," shared Anastasia Istratova, a Principal on The Climate Technology Investment Team at Fifth Wall. "Matt and his entire team's innovative approach to automating the construction of today's solar power plants is truly groundbreaking. Their mission has profound synergy with our core commitment to investing in technologies that are meaningfully transforming the scale up of renewable energy infrastructure."
Luís Manuel, Board Member at EDP Ventures said, "Terabase is responding to the renewable energy sector's need to scale faster as it seeks to meet ambitious growth targets over the next several decades. Its' bold solutions through digitization and automation will play a meaningful role in increasing the industry's capacity to build PV power plants more quickly and in more remote locations, aligned with EDP's global commitment to expanding renewables."
"The sustained financial backing we're receiving is representative of the cross-industry enthusiasm surrounding Terabase's mission," said Matt Campbell, CEO and Co-Founder of Terabase. "This funding will enable us to expedite the scaling of Terafab production and will ensure that we are equipped to meet the rising demand effectively as we deploy Terafab."
Terabase Energy's momentum also continues with its software products, led by the rapid adoption of its construction management software, Construct, being used by leading developers and EPCs on more than 5 Gigawatts of projects. Meanwhile, Terabase's solar energy modeling tool, PlantPredict, recently surpassed 2.8 Terawatts (2,800,000 Megawatts) of simulations across 30,000+ projects, demonstrating increasing demand for more accurate modeling of solar power plant performance.
About Terabase Energy
Terabase Energy is on a mission to reduce the cost and accelerate the deployment of utility-scale solar through construction automation and software. The Terabase platform enables rapid deployment of solar plants at more competitive costs, supporting both grid-connected PV plants and the cost-effective production of green hydrogen with PV in the future. Terabase's suite of products includes PlantPredict: a cloud-based solar plant design and energy modeling tool, Construct: digital construction management software, Terafab construction automation, and power plant control and SCADA solutions. To learn more, visit www.terabase.energy.    
About Fifth Wall
Founded in 2016, Fifth Wall, a Certified B. Corp, is the largest asset manager focused on improving, future-proofing, and decarbonizing the built world. Since 2016, Fifth Wall has raised the third-most capital of any venture firm globally ($2.9B), according to SEC Form D filings. With approximately $3B in commitments and capital under management, Fifth Wall is backed by a global mix of more than 110 strategic limited partners from more than 15 countries, including BNP Paribas Real Estate, British Land, CBRE, Cushman & Wakefield, Hilton, Hines, Host Hotels & Resorts, Kimco Realty Corporation, Lennar, Marriott International, MetLife Investment Management, MGM Resorts, Related Companies, Starwood Capital, Toll Brothers, and others. This consortium represents one of the largest groups of potential partners in the global built world ecosystem, resulting in transformational investments and collaboration with portfolio companies to cut emissions, improve efficiency, and maximize returns. Founded in Los Angeles and headquartered in New York City, Fifth Wall's other offices include San Francisco, London, and Singapore. For more information about Fifth Wall, its limited partners, and portfolio companies, visit www.fifthwall.com.
About EDP Ventures
EDP Ventures is the corporate venture capital arm of EDP, a global energy company present in 29 markets, focused on investing in Energy and Climate Tech startups. Its main goal is to support and develop innovative solutions that contribute to the transformation of the energy industry. EDP Ventures provides financial investment, mentoring, and access to EDP's network and resources to help accelerate the growth of promising startups in the energy sector. EDP Ventures invests globally and has a portfolio of 37 companies in Europe, US, LATAM, and Asia. To discover more about EDP and its strategy and projects, visit www.edp.com.
---